Vegetarian &/or Vegan:
Anything with this symbol can be customized to Vegetarian &/or Vegan if not already!
Appetizers:
Flatbreads:
Pear, Smoked Gouda, Toasted Walnut, Arugula and Honey drizzle
Roasted Red Pepper & Red Wine Sauce, Italian Cheese Blend, Fine Italian salamis, Chorizo, Cherry Tomatoes, & Fresh Basil.
Chicken or Prawn Pesto with Spinach, Feta, Heirloom Cherry Tomatoes and Fresh Basil.
Truffled Mixed Wild Mushroom with béchamel, Thyme, Parmesan and Fromage Blanc.
Stationary platters:
Signature Savoury Pesto and sun dried tomato Cheesecake w/ Artisan Crackers & Breads (Gluten Free crackers available upon request)
Seasonal Fruits and Veggie platters
Charcuterie selections:
Deluxe Charcuterie – carefully curated blend of fine cured meats, cheeses and pairings
Fine mixed cheese board
Classic charcuterie- assorted fine cured meats and pairings
Vegan Charcuterie boards are also available
(all boards come with assorted artisan crackers and breads)
Canapés and other appetizers:
Chipotle Peach Goat Cheese Tarts w/ Wine Jelly & Grilled Peach
Blackberry Brie & Thyme Puffs *staff pick*
Caprese Skewers with Heirloom Cherry Tomatoes, Basil & Buffalo Mozzarella
Antipasto Skewers with Cherry tomatoes, Marinated bocconcini,  Basil, Olive, Artichoke and Genoa salami
Mini pitas topped with a Cajun Prawn and Lime aioli *staff pick*
Cucumber Cups with smoked salmon capers and dill
Grilled Prosciutto wrapped asparagus
Potato latkes with Green Goddess dressing and Microgreens
Seed crackers with a blue and goats cheese blend topped with wine jelly and sprouts (vegan version- with beet hummus)
Rice stack with Tuna Poke and Nori
Cranberry Pinot noir meatballs
Jalapeño Poppers grilled and wrapped in Prosciutto
Coconut Curry Chicken Satay w/ Peanut Dipping Sauce
Crostini with Blue and Goats cheese spread topped with low and slow braised Beef and truffle oil
Crostini with Hummus and Truffled Wild Mushroom blend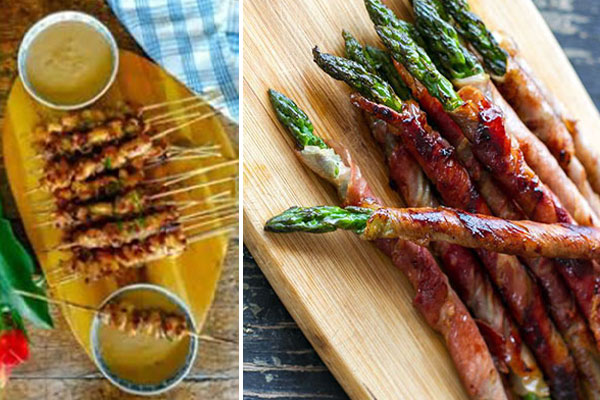 Salad course Selections:
Summer Savoury Mixed Baby Greens Salad with house Croutons & Okanagan Dressing Selection.
Basket Case Picnics & Catering' Signature Salad – Organic Baby Greens, Edible Flowers, Nut Blend, Fresh Seasonal Berries, Goat Cheese & Wild Blueberry Balsamic Vinaigrette.
Roasted Peach and Arugula w/ Toasted Slivered Almonds, Crispy Prosciutto & Maple Balsamic Vinaigrette
White Wine and Herb Marinated Potato Salad
Caprese Salad with Heirloom Tomatoes, Fresh Basil, and Baby Mozzarella oil and balsamic drizzle.
Quintessential Quinoa Salad with Goat Feta, dates, arugula and red onion with lemon herb dressing
Shaved fennel with Apple, Toasted Walnuts & Goat Cheese with Champagne Dijon Vinaigrette.
Lemony Herb Asparagus Pasta Salad
Protein Mains:
Grilled Salmon or Salmon Wellington with Greek Yogurt Lemon & Dill Sauce.
Choice of Citrus & Lavender, Lemon & Herb or Feta & Sun Dried Tomato
Marinated & Butter Basted Chicken Breast/Thighs.
Helmut's Gourmet Char-Grilled Thuringer Sausage
Wild Sockeye Salmon Fillet w/ Cucumber Dill Sauce
Carved Roast Beef w/ Red Wine au Jus
Pork Loin Roast w/ Maple Mustard and rosemary Glaze
Individual Salmon or Beef Wellingtons
Bacon Wrapped Pork Tenderloin with Pomegranate Glaze
Coq Au Vin-Flavor rich Chicken Thighs braised w/ Bacon, Red Wine and Thyme
Lamb Chops Braised in Stout
Espresso Rubbed Braised Beef Short Ribs
Bacon & Onion Stuffed Beef Rouladen
Select Sous-Vide and a Variety of Game Selections (Duck, Bison, Elk etc) available at Current Market Pricing
Vegetarian Main Options:
Individual Truffled Portobello Mushroom, Goat Cheese & Herb Wellington
Cabbage Rolls or Stuffed Peppers in Rosè Sauce
Roasted and Caramelized Onion Cauliflower Steaks
* Don't see your perfect choice – feel free to suggest an alternative or ask us for additional customized options for your consideration!
Carbohydrate Choices:
Roasted Rosemary Tri Color Baby Potato Nuggets
Roasted Garlic Mashed Potatoes
Wild & Basmati Rice Pilaf
Gnocchi in Herbed Olive Oil, lemon and Parmesan
Truffled Mushroom Risotto
Potatoes Au Gratin
Tri Color Smashed Baby Potatoes with Parmesan Petals and Truffle Oil
Grilled Mushroom Polenta
Mediterranean Linguini
Sweet Potato Mash with Coconut Milk
Butternut Squash & Ricotta w/ Crispy Sage Lasagna Roll-ups
Vegetable Sides:
Cornucopia of Mixed Roasted Roots & Summer Vegetables
(Rainbow Carrots, Squash, Varietal Beets, Parsnips, Cob Corn segments, etc);
Maple Glazed Rainbow Carrots
Broccoli & Cauliflower w/ Brown Butter Sauce
Roasted Brussel Sprouts w/ Balsamic and Bacon
Roasted Asparagus with Infused Lemon Oil
Grilled Cabbage with Truffle Oil
Warm Beets with Feta Cheese and Thyme
Grilled Fennel with Fig Reduction
Or try our Signature Station Style – A casual dining approach with a twist
Chef Tended Station Option A: PICNIC STOP:
Crispy Buttermilk 'Fried' Chicken w/ Definitely Dilly Potato Salad
or Whipped Potatoes & Gravy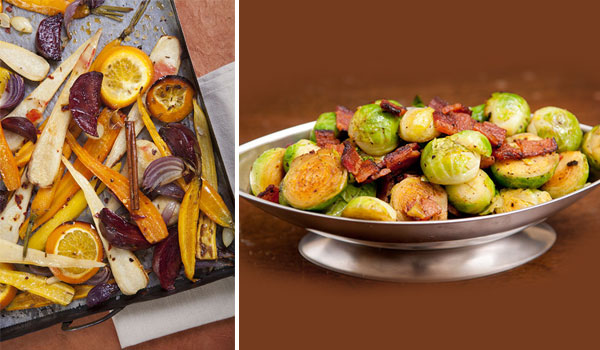 Chef Tended Station Option B: SLIDER &/or GOURMET SMOKIE BBQ BAR:
Traditional Beef, Bacon & Cheddar
Middle Eastern Falafel Sliders w/ Tzatziki Sauce & Pickled Red Onion
Grilled Salmon w/ Tzatziki & Sprouts
Pulled Pork w/ Caramelized Onion & Apple Bacon Slaw
Buffalo Chicken & Blue Cream Cheese
Gourmet Grilled Sausage/Smokies could also be offered on this station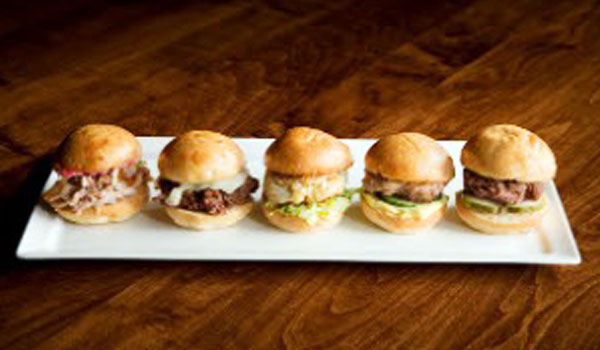 Chef Tended Station Option C: TEMPTING TACO STATION:
Choose from:
Grilled Cod, Mango Salsa, Lime Aioli, Shredded Cabbage & Fresh Cilantro;
Grilled Organic Turkey, Micro Greens & Tomato Bruschetta;
Lemongrass Chicken with Marinated Carrot Slaw & Spicy Cilantro Aioli
Pulled Pork with Caramelized Onion, and Apple Bacon Slaw
Chef Tended Station Option D: RICE BOWL STOP:
Butter Chicken, Thai Coconut Curried Chicken; &/or Teriyaki Beef & Broccoli
Chef Tended Station Option E: FRESH ITALIAN STONE-FIRED FLATBREAD STATION:
Selections As per APPETIZERS section
SOMETHING FOR EVERYONE SALAD BAR: ADD a Beautiful Custom Salad Bar in to this dining style that your guests will be totally impressed by!
Other Station Style Options:
Sushi, Seafood & Salad Rolls (Market Pricing)
Mediterranean Bruschetta & Tapas Station
Pierogi or Baked Potato Station w/ Varietal Toppings
Greek Mini Platter (Souvlaki, Mini Spanakopita, Hummus/Tzatziki & Mini Pitas OR Lemon Herb Potatoes)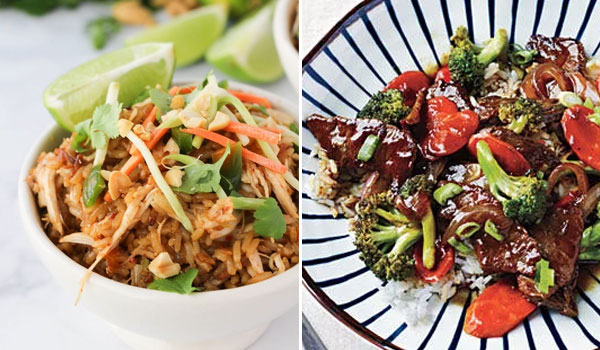 Cupcakes or cakes:
Signature 24 'K' Gold Carrot Cake with Lemon Cream cheese Icing & Fresh Raspberry
Callebaut Chocolate Brownie w/ Fresh Whip Cream & Cherry Vanilla Compote
Double Chocolate w/ Mocha Cream Frosting
Red Velvet w/ Buttercream or Strawberry Buttercream Frosting.
Mini Berry or Peach Pavlova
Other desserts:
Sopapilla (Cheesecake Bars)
Lemon Bars (w/ or without Lavender)
Apple cinnamon crumble
Late Night Service Options
Tempting Tacos (Choose from Grilled Fish, Mango Salsa, Lime Aioli, Shredded Cabbage & Fresh Cilantro).
Grilled Organic Turkey, Micro Greens & Tomato Bruschetta.
Lemongrass Chicken with Marinated Carrot Slaw & Sesame Cilantro Aioli.
Pulled Pork with Caramelized Onion, and Apple Bacon Slaw.
Custom Meat Pies.
Poutine Bar
Fresh Baked Flatbreads.
Assorted Platters & Late Night Sweets also available
Priced separately as a stand alone service or as part of full wedding catering services.