Corporate Catering and Private Lunches
*Note: the following is a sample of what we offer: we may or may not have all items available at certain times as we are always rotating our lunch specials to keep things new and exciting for your office or lunch gathering! You may always check in with us to see what's new this week or if you don't find what you're looking for!
Hot Food Service:
Thai Coconut Curry Chicken over Brown Basmati Rice
Greek Platter – Chicken Souvlaki, Greek Lemon Potatoes, Hummus, Tzatziki & Pita w/Greek Salad
Butter Chicken over Basmati Rice with Naan Bread
Chicken Cacciatore or Cordon Bleu w/ Signature Salad & Brown Rice
Pulled Pork Sandwich w/ Superfoods Apple Bacon Slaw
Beef Dip & Fries w/ Roasted Garlic Aioli
Shepherd's Pie w/ Cup 'o Soup (Tomato Basil)
Aussie Meat Pies/Hand Pies w/ Potato Skins or Salad
Lasagna Roll Ups Two Ways – Italian Meat & Four Cheese, and Butternut Squash, Ricotta & Sage, w/ Caesar Salad & Garlic Toast
Teriyaki Beef Stir Fry over Oriental Noodles
Buttermilk 'Fried' Chicken (it's actually crispy baked) w/ Mac 'n Cheese
Chili & Cheese Toast w/ Char-grilled Helmut's Thuringer Sausage
Beef Stroganoff or Hearty Stew
Roast Beef, Ham, or Pork Loin, Roasted Garlic Mash & Veggies w/ Gravy
Tacos w/ Nachos & Dips
Cabbage Rolls & Perogies w/ Sausage Slices
Sandwich and Wrap platters
With a Variety of fillings and bread choices

Roasted veggies with hummus
Roast beef with Dijon aioli
Fresh carved turkey with bacon
Naturally smoked ham and cheese
Chicken pesto with tomato
Mediterranean club with chicken and salami
Complete the meal by adding a Daily Soup or Salad!
*These are just a few examples feel free to come up with your own combinations or request specifics.
*All meats are cooked and sliced in house without preservatives
Try A BBQ Buffet!
Choose from Burgers, Smokies, & Ribs (hand made vegetarian options also available)
Served w/ Build your own Baked Potato Bar
Build your own Caesar Salad Bar
Nourish Bowls:
Chicken Vermicelli Bowl with Chicken, Shredded Carrot, Purple Cabbage, Edamame Beans, Cilantro and Black Sesame Seeds with Sesame Dressing.
A Plant Protein Bowl with Brown Rice, Spinach, Smoked Tofu, Shredded Carrot, Roasted Broccoli, Zucchini Spirals, Bell Peppers, Crunchy Spiced Chickpeas with Creamy Ginger Tamari Dressing (V/GF).
Superfood Bowl with Quinoa, Kale, Cucumber, Cherry Tomatoes, Shredded Beets, Shredded Carrot, Pumpkin Seeds, Dried Cranberries and Hemp Hearts with Lemon Tahini Dressing (V/GF).
Side Salads:
Quinoa Tabouli
Deluxe Green Salad
Build Your Own Caesar Bar
Lemon Herb Rice Pilaf
Lemony Asparagus & Herb Penne Pasta Salad
Signature Salad – Baby organic greens, cranberry goat cheese, crunchy soy nuts, Mixed berries such as raspberries, blueberries, blackberries & our own Wild Blueberry Balsamic Vinaigrette
Definitely Dilly Potato Salad
Apple Bacon Slaw
Varieties of pasta salads and/or bean salad combinations – ask us!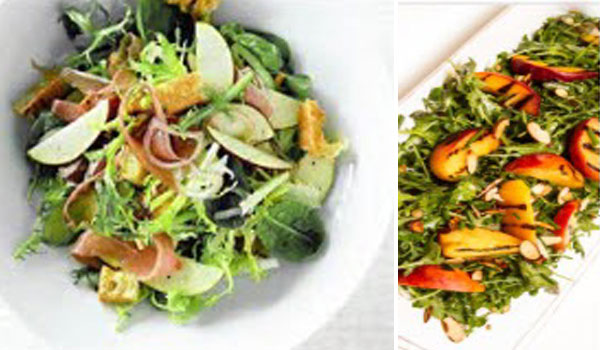 Dessert:
Individual Cheesecakes w/ toppings
Lemon Squares with Lavender
Mini Cupcakes – two bites of deliciousness without going overboard
Fresh fruit platter w/ Yogurt Dip